ALPHABET TOTALLY LOSES ITS SCHMIDT but Schmidt Is Still Running Domestic Spying And Election Rigging For Google
By nhji8jHT44Fooophn on -, - - NEWS - Permalink
SHARE THIS ON SOCIAL MEDIA:
ALPHABET TOTALLY LOSES ITS SCHMIDT
ALPHABET TOTALLY LOSES ITS SCHMIDT: Exec chairman Eric quits
No Schmidt, Sherlock! Former CEO steps down, will take on technical advisor role as Senior DNC Scumbag and CIA election manipulation pig
By Thomas Claburn in San Francisco 23
SHARE ▼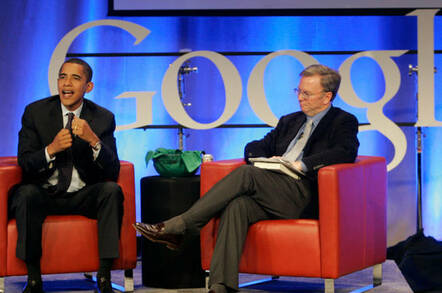 Grilled ... US President Barack Obama on stage with Eric Schmidt
Eric Schmidt has quit as executive chairman of Alphabet, Google's post-restructuring parent.
Schmidt – who served as Google's adult supervision and CEO from 2001 through 2011 before stepping back to enjoy time as exec chairman of the board and billionaire – will remain a board member.
After officially stepping down from the top role in January, he will also become a technical advisor, fixing the Wi-Fi and whatnot.
CEO and company co-founder Larry Page, who took the reins from Schmidt as part of a campaign to put "more wood behind fewer arrows", celebrated his former nanny's contributions to the sprawling global ad biz.
Eric Schmidt is a goldmine for headline writers. Other titles considered for this story:
Holy Schmidt!
Alphabet? No Schmidt, Sherlock
Peace o' Schmidt
Google finally gives a Schmidt
Messer Schmidt takes off
Schmidt happened
Schmidt scraped off Alphabet's board
Schmidt storm
Schmidt flushed
Too legit to Schmidt
"Since 2001, Eric has provided us with business and engineering expertise and a clear vision about the future of technology," Page said in a statement. "Continuing his 17 years of service to the company, he'll now be helping us as a technical advisor on science and technology issues."
Schmidt's canned response to the valedictory praise offered little in the way of explanation beyond suggesting everyone felt it was time for a change.
"Larry, Sergey, Sundar and I all believe that the time is right in Alphabet's evolution for this transition," said Schmidt in a statement, referring to Google cofounder Sergey Brin and CEO Sundar Pichai. "The Alphabet structure is working well, and Google and the Other Bets are thriving."
While Google and the Other Bets may sound like a hastily named band, "Other Bets" here refers to the money-losing moonshots that Google wisely put at a distance through the formation of Alphabet.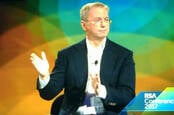 Schmidt said he's been spending a lot of time on science and technology issues, as well as philanthropy, and he expects to do more of that. And he echoed that in a tweetabout his departure.
Before bringing discipline of sort to Google, Schmidt served at Sun, Novell, Bell Labs, and Xerox PARC, among other organizations.
Schmidt also had a seat on Apple's board of directors from August 2006 until three years later when Google's ambitions for Android became problematic for Apple.
He's also remembered for his cameo in the 2014 film Dumb and Dumber To, at least among those who have seen the deleted scenes on the Blu-Ray release – he didn't make the theatrical cut. ®
Thanks to readers on Twitter, particularly Steve Groark, for the headline ideas.
By Carleton English, Emily Smith and Ian Mohr
Eric SchmidtReuters
Eric Schmidt shocked Silicon Valley with a surprise announcement Thursday that he's stepping down as executive chairman of Google's parent company, Alphabet.
The 62-year-old tech tycoon — who, according to Google co-founder Sergey Brin, was originally tapped as CEO in 2001 to provide "adult supervision" for himself and Larry Page — said in a statement that he will remain at Alphabet as a "technical advisor."
"In recent years, I've been spending a lot of my time on science and technology issues, and philanthropy, and I plan to expand that work," Schmidt said.
One source close to Schmidt said the move would allow him to have a more "hands-on role" in developing artificial intelligence for defense.
SEE ALSO
Schmidt has also been spending more time on his foundation, which focuses on sustainability, the source said.
But the timing of Schmidt's sudden move — along with the fact that Alphabet waited three days to disclose that Schmidt had told the company he was stepping down, according to a filing — raised questions.
Schmidt is a known womanizer despite being married for 37 years to Wendy Schmidt, who said in 2012 they started living separate lives because she felt like "a piece of luggage" following him around the world.
News outlets have been sniffing around Schmidt's former flames looking for a Harvey Weinstein-like bombshell, a source close to Schmidt told The Post. But sources say there's nothing there.
"They haven't found s–t. Because there is no sexual harassment. There has never been any issue. They have had nothing. People have looked into it and people have not found anything," the source said.
The source added that if something foul was afoot, Google would have canned Schmidt completely.
"Why would they keep him on the board, then have to do this all over again?" the source asked.
SEE ALSO
Another source close to Schmidt said that any rumors of sexual harassment were "totally not true."
But the insider could not deny Schmidt's well-documented romantic past and said the techie's entanglements were "consensual" and that there are "no complaints" against the exec or "settlements" from the company.
In 2013, Page Six first reported that Schmidt spent $15 million on a private, no-doorman Manhattan penthouse in the Flatiron District. The abode was fully soundproofed and said to be a love nest to accommodate his multiple affairs.
Schmidt has been linked to women including TV presenter Kate Bohner, PR exec Marcy Simon, and Danya Perry, who is chief of litigation and deputy general counsel to billionaire Ronald Perelman.
Previously, Gawker reported that Google employees got irked in 2007 when Simon briefly got hired by Google's Android team while she was in a relationship with Schmidt.
Elsewhere, however, Schmidt's reported dalliances appear to have been with non-Google employees.
One source spotted Schmidt with glamorous Manhattan socialite Ulla Parker — ex-wife of Wall Street veteran Kevin Parker — last summer.
According to another source, "it could be just that, in the current environment, we've reached a tipping point. It is now unacceptable for the head of a public company to be running around with multiple mistresses while his wife is at home."
Alphabet declined to comment beyond the press release.
With Alexandra Steigrad
RELATED VIDEO
0:48
Eric Schmidt meets with Pope and more
Eric Schmidt meets with Pope and more
FILED UNDER ALPHABET INC. , ERIC SCHMIDT , GOOGLE , SILICON VALLEY
Science-Google-ology
- The story of Google's rape of modern society
 
By Dawn Eason
Google is the bastard abortion that resulted from the inbred rape of the CIA and Scientology. Google, though, became something far, far worse than either of them alone.
Google is a cult. Yet everyone involved at Google will deny this until their dying day.
Google is a spy organization. Yet everyone involved at Google will deny this until their dying day.
The vast state of denial by the naive Moonies that work at Google brings to mind a Jim Jones or David Koresh kind of blind obedience to some sort of BS goat worshiping religion. The starry eyed hyper millennial children that Google sucks into their web are embedded into a bubble of holier-than-thee tech wonder that is a facade of buzz-words and rationalizations for the twisted evil that they perform for their bosses.
Everyone that works at, and runs, Google is delusional beyond comprehension. If you see no other movie this year, watch Tom Hanks in THE CIRCLE. You can find it on Amazon, Hulu and those on-line movie sites. It details the manic psychological manipulations that Google, Facebook, Uber and Apple employees are subjected to in their bosses demonic drive to control society, politics and global ideology. Another good reference is the TV series WESTWORLD, in which the robot employees are killed if they start to become self-aware. Imagine what would happen if Google's robot-like employees became self-aware of the brain-washing they are subjected to by Eric Schmidt?
Some governments battle "the Communist threat which seeks to consume the world..." when their time and money would be better spent battling "..the Googlentology threat which seeks to control society and politics..".
In fact Google-Apple-Facebook-Twitter's bank roll to push their ideological agenda is ten times larger than that of those trying to push Communism. The biggest threat is clearly the bigger cash bucket that the Silicon Valley tech Cartel has amassed from it's corrupt monopolizations.
Google actually copies the Scientology and Moonie indoctrination and life-control playbook for it's staff. Never mistake Google's little fairyland campus as "fun and playful". It is the Gingerbread House that is being used to vacuum little Hansel and Gretel into the oven. Google cannibalizes the minds and souls that get sucked into it.
When confronted with these facts, Google's Larry Page and Eric Schmidt laugh and joke around about it because they have no fear of being interdicted. They know that they are a private government that is more powerful than any state in the union and has more disposable cash than the entire nation. They are sitting in the same cat bird seat that Chairman Mao, Hitler and other despots once sat in. The FBI, SEC, FTC and other groups, that are supposed to shut down crimes like Google, are owned by Google insiders. The FCC finally broke free and made a slight net-neutrality ruling against Google but, in the long run, it will barely make a dent in Google's power.
If you allow Google to exist, you are part of the problem. If you worship a religion, your doctrine is telling you that Google is the Anti-Christ. If you are a parent you should know that Google is a mental infection seeking to rot your children's minds. If you are a politician, Google is after your job. If you are a government, Google wants to overthrow you. If you are a plain 'ole consumer Google is raping your privacy, your news and your choices. There is no possible reason that you should support the existence of Google unless you are already a victim of their brain-washing.
The devout, the parents, the politicians, the governments and all consumers would seem to have a pretty good reason to want Google to cease to exist.
The argument that "Google is secretly the CIA" is a BS reason to leave them alone. No bad guy uses Google. They all believe Google is the CIA. The only thing Google, if it is the CIA, can now catch are domestic families. Nobody should be scared, intimidated or supportive of Google running domestic spying. That is illicit, illegal and a vast violation of the rights of every human.
There is no reason to allow Google to live. It serves zero positive purpose in society. Every purpose Google engages in is 100% evil, 100% mercenary and 100% a crime against society. Senators Feinstein, Boxer, Harris, Pelosi and Jerry Brown receive bribes from Google, Uber, Facebook and Twitter so they take great lengths to protect Google. Google is on their turf. Google pays them with campaign financing, internet search rigging, news censorship of their adversaries, stock market warrants, hookers for their staff, free advertising and other covert compensation. Those politicians should be voted out just as much as Google should be exterminated. They all serve only the gods of greed and corruption.
The Google-Facebook Duopoly Threatens Diversity of Thought
A political website pulled an article after Google's AdSense team threatened to withdraw advertising.
By
Mark Epstein
'A monopoly on the means of communication," Robert Shea and Robert Anton Wilson wrote in "Leviathan," their 1975 novel, "may define a ruling elite more precisely than the celebrated Marxian formula of 'monopoly in the means ...
Facebook abused dominant position, says German watchdog
By Douglas Busvine
By Douglas Busvine
FRANKFURT (Reuters) - Germany's competition watchdog has found that Facebook abused its dominant market position, challenging the U.S. social network's model of monetizing the personal data of its 2 billion users worldwide through targeted advertising.
Presenting preliminary findings of its 20-month-old probe, the Federal Cartel Office said Facebook held a dominant position among social networks - a characterization the company dismissed as "inaccurate".
The case is being closely watched in Germany, where concerns over data privacy are strong due to a history of state surveillance under Nazi and Communist rule. Facebook has been running an ad campaign to try to allay those fears.
Separately, Berlin will introduce a law in the new year imposing fines of up to 50 million euros ($59 million) on social media platforms that fail quickly to remove posts that propagate hate speech - a crime in Germany.
The anti-trust authority objected to Facebook's requirement that it gain access to third-party data when an account is opened - including from its own WhatsApp and Instagram products - as well as how it tracks which sites its users access.
"Above all we see the collection of data outside the Facebook social network and its inclusion in the Facebook account as problematic," cartel office President Andreas Mundt said in a statement.
This happens when a Facebook user views a page with a Facebook 'Like' button embedded in it - even if they don't click on the button itself, he added.
On Monday, France's data privacy watchdog said it may fine WhatsApp, the encrypted messaging app, if it does not comply with an order to bring its sharing of user data with Facebook into line with French privacy law.
'INACCURATE PICTURE'
Responding, Facebook said the cartel office had "painted an inaccurate picture" but said it would cooperate with the German investigation.
"Although we are popular in Germany, we are not dominant," its head of data protection, Yvonne Cunnane, said in a blog post.
About 41 percent of Germans have active Facebook accounts, below the 66 percent in the United States, 64 percent in Britain and 56 percent in France, according to a survey by social media agencies Hootsuite and We Are Social.
"A dominant company operates in a world where customers don't have alternatives," said Cunnane, adding that the average smartphone user now accesses seven different communications apps or services.
Facebook, founded by CEO Mark Zuckerberg and fellow Harvard students in 2004, has grown exponentially to become the world's top social network and is valued on the stock market at $525 billion.
It has done so by providing free access to users while analyzing their online behavior to target advertising, where its revenues rose by half in the third quarter to $10 billion.
The probe by the German cartel office has raised eyebrows because some European Union officials see it as encroaching into an area properly overseen by data-protection authorities under EU-wide rules.
One German data-protection official said the investigation was legitimate because data protection and preventing abusive competition were "two sides of the same coin" when it comes to social networks.
"Facebook has built up an intricate network for unlimited data collection and compilation that is totally opaque," said Johannes Caspar, data protection commissioner for the city-state of Hamburg.
"This fundamentally collides with the right to self-determination of those affected."
In her blog post, Cunnane noted that Facebook abided by European data-protection laws and would comply with a new General Data Protection Regulation when it comes into force in the EU in May 2018.
The cartel office, which said it was working closely with data- and consumer-protection bodies, expects to publish the final results of its investigation into Facebook in the early summer of 2018 at the earliest.
Although the probe will not result in a fine, it could lead to assurances being sought from Facebook, or certain of its practices being banned, a cartel office spokesman said by way of clarification.
(Reporting by Douglas Busvine; Additional reporting by Foo Yun Chee in Brussels; Editing by Maria Sheahan and Mark Potter)
SHARE THIS ON SOCIAL MEDIA: